Effortlessly see near and far-without ever switching glasses
Whether reading, working, or simply going about your day, Peepers Progressive Lenses allow your eyes to move seamlessly between the powers you need, without the "jump" that you might expect from other bifocal or trifocal lenses. Best of all, with Peepers' always-on-trend frames, you can rest assured you'll never have to choose between all-day comfort and the styles you love.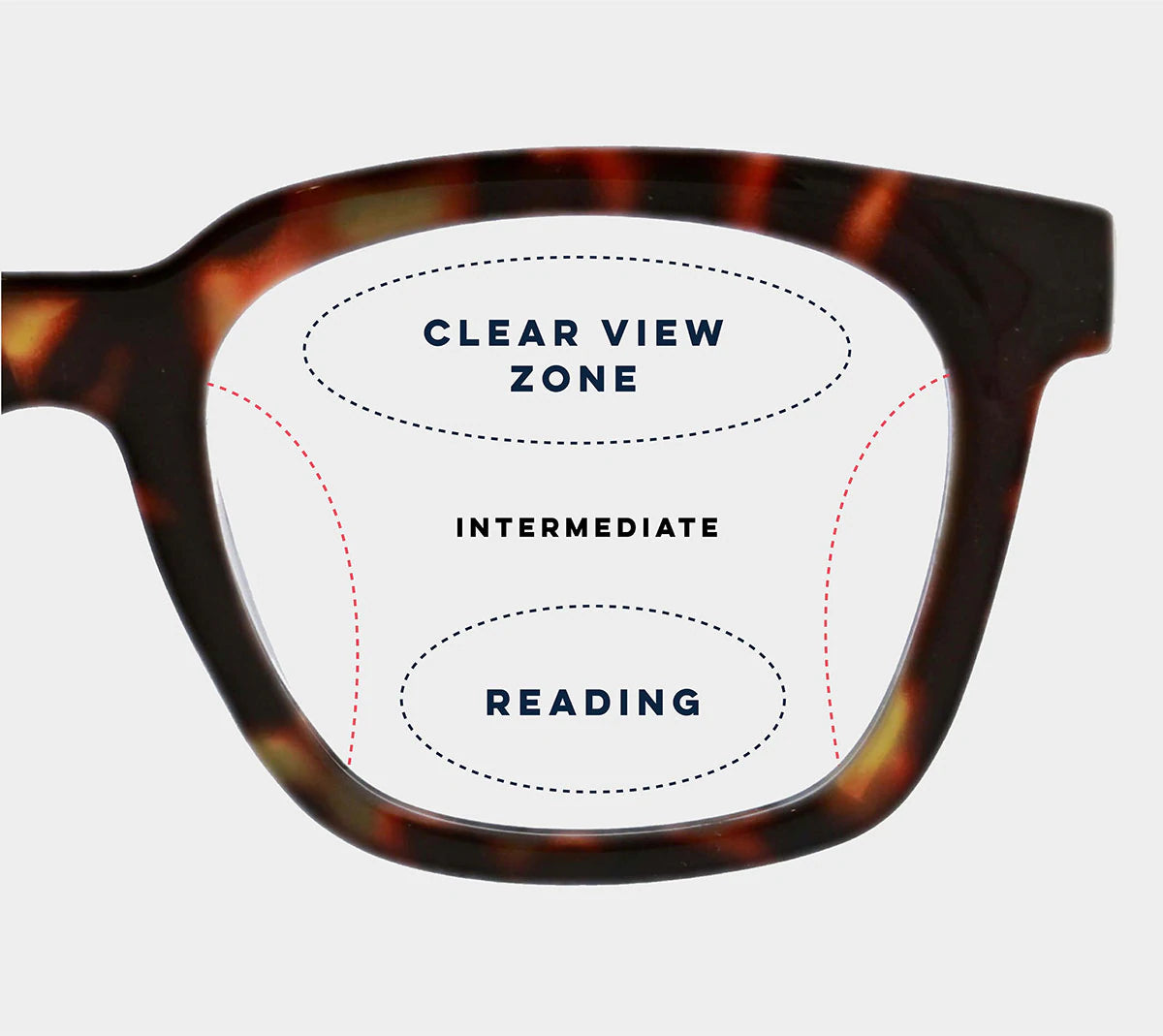 Clearer zones for easy distance vision.
Unlike other progressive lenses, our lenses feature an extra wide clear view zone at the top of the lens-making distance vision ultra-comfortable
And the innovation doesn't stop there.
When we designed our progressive eyewear, we kept quality innovation and craftsmanship top of mind. Here are some more innovative features that you've come to expect with your Peepers.
Blue Light Focus™ Technology filters up to 63% high-energy visible blue light.¹
Polycarbonate Lenses are ultra-lightweight for all-day wear.
7-Layer Anti-Reflective Coating reduces reflections (glare) on the surface of the lens for ultimate comfort.²
Oleophobic Hydrophobic Coating resists oils, smudges and repels water and moisture.
Demonstrated Effectiveness you can rest easy knowing you have consistent, effective protection thanks to Peepers product testing³
Progressive reading glasses are also known as multifocal glasses. You may hear their lenses called progressive power lenses or varifocal lenses. Many people benefit from multi-focus reading glasses for a variety of reasons. One of their biggest benefits is that progressive glasses make it easier to see while enjoying a favorite book or driving in the car. In all, progressive lenses have three different zones of vision, which can make it more comfortable to see all day long. Enjoy the Peepers clear view zone for distance vision and the intermediate zone for working on the computer. The reading glasses zone is at the bottom so you can easily gaze at your book or tablet. With progressive reading glasses, you'll only need one pair of stylish specs. Along with our clear and comfortable view zones, you'll enjoy no visible lines on your glasses. The impeccable design of our progressives matches well with our ultra-blended magnifications for smooth and blended transitions — no matter if you're at work or play. Those aren't the only features these progressives have. Thanks to Peepers Blue Light Focus™ lenses, you'll filter most high-energy blue light from reaching your eyes. Our baked-in technology is always working to prevent symptoms of digital eye strain while you work on your laptop or desktop computer. Progressives have many benefits, but it's essential to know that they require a period of adjustment. Our precision-designed lens pairs of glasses will help you to adjust more quickly so you can feel most comfortable going about your daily tasks. All our lenses are engineered for enhanced comfort, including our reading glasses and blue light glasses. We also have reading sunglasses and polarized sunglasses available for enhanced vision. No matter what you need out of your eyewear, you'll be ultra comfortable with anti-reflective lenses that help to reduce glare on the surface of your lens. These lightweight glasses are not only functional, but they're sure to feel as amazing as they look.